THE RAKE'S PROGRESS
The various women whom fanfic writers have provided for Archie.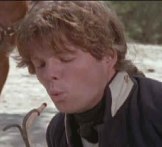 Pucker up!

"Do you have a sweetheart in England, Archie?" Horatio asks at one point in The Duchess and The Devil. We never do get an answer to this question, although during his second fit in The Duel it appears that Archie shouts the name "Maria," and he does show a healthy interest in voyeurism in Retribution. Yet the blunt fact is thus: in the films, Archie doesn't get him none. He never even gets a chance to get some. It's not surprising: he's the Sidekick, after all. It's not his job! But still ... Lucky Horatio flirts with the Duchess and puts up with the Frogette's monotone, yet long-suffering Archie just doesn't get any.
Perhaps to compensate for him not getting any -- and also possibly for the distinct dearth of 18th century psychotherapists -- the
Horatio Hornblower Fan Fiction Archive
has provided Archie with a small harem of understanding females to tend to his physical and emotional owies and to bolster his oft-faltering self-esteem. He hasn't complained so far!
Here are the lucky ladies, and how far they got with Our Boy:
(NOTE: for the ladies who are in more than one story, I have only noted their first appearance)
| | | | | |
| --- | --- | --- | --- | --- |
| NAME | STORY | COURTING | ENGAGED | MARRIED |

Addington, Lucy

A Day (Or So)

In the Life

X

Blossom, Maybelle

(AKA Maribel, Mariabella)

Ransom

X

Bradley, Amy

Travels through Time

X

Brandon, Alicia

Perspectives & Passages (series)

X

X

X

Campbell, Katrinia Abigail

Dark Victory

X

Clara

Archie and Horatio's Road Trip

X

du Paix, Lucille

Uncharted Course

X

(sort of)

Dylan, Sophie

Survival

X

James, Emily

Another Way

to Serve

X

X

"The Lady"

The Lady Vanishes

X

Langton, Natalie




An American Encounter,

Part Two

X

Northcote, Susan

Archie & Edrington's Excellent

Adventure

X

X

X

Silverthorne, Lady Josephine

A Life of Duty

X

X

Sommes, Leigha

Perfection in

My Eyes

X

X

X

(plus, he propagates!)

Wentworth, Katie

Uncharted Waters

X

X

Whitehall, Trudy

A Letter from

Hell - Reply

X

X

X


Come to think of it, I myself let him indulge in a little flirtation with Catherine the
Great ... Yep, in matters of the heart, the fanfic Archie is doing very well indeed!
This page last updated 6/3/02.