OBSERVATIONS
Archie in the eyes of his beholders (the gush pages).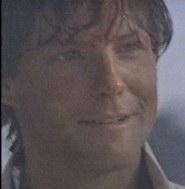 To start on a purely personal note: I rather pride myself on being as close to an inorganic substance as possible. All the sensitivity of a brick. And yet, that darned little Archie -- by virtue of his wit as well as his, ah, physical attributes -- always manages to turn me into a slobbering pile of mush.
Hmmm. I guess having said that, there's really nothing left to add to the introduction! On to the slobber!
Archie's, ahem, visual appeal.
Archie's wit and wisdom: quips, anecdotes, and the like (as the Duchess would say).
The various descriptive nicknames fans have bestowed upon Archie.
(Many thanks to Alice for this image from HH2!)